THE HAVRES DES LÉGENDES PROJECT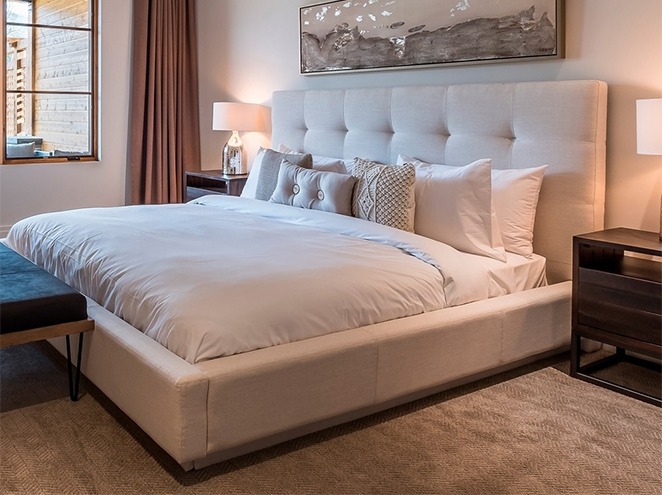 ---
The is a luxury real estate project in Mont-Tremblant, Quebec by Construction Tremblant Signature. Nestling in the mountains in the heart of nature and close to the Tremblant resort, the houses are renowned for their ideal location to enjoy the pleasure of ski-in/ski-out. The designer Marylaine Langevin was commissioned to create the living space of the 4 luxurious … Continued
---
The is a luxury real estate project in Mont-Tremblant, Quebec by Construction Tremblant Signature. Nestling in the mountains in the heart of nature and close to the Tremblant resort, the houses are renowned for their ideal location to enjoy the pleasure of ski-in/ski-out.

The designer Marylaine Langevin was commissioned to create the living space of the 4 luxurious units. The designer chose several Jaymar models following a meeting at our showroom with our advisors.

From the cocooning lounge, to the playful basement to the bedroom, it was easy to choose the configurations of each piece of furniture as well as the overlays that would fit each space.

In the living room, with raw materials such as concrete, wood beams and oak floors, the designer has opted for a gray fabric small chevron. The James model was perfect for furnishing the open air. Its height of 30 inches with the headrests down, enlarged the space and does not hide the fireplace. The room is perfect for cocooning, after skiing!

It is the Rachel bed as well as the Calypso bed that was chosen to furnish the 16 rooms of the 4 units. To get married to the rustic-contemporary decor of the chalets, she opted for the Nubia Ivory fabric for the Rachel bed and the Caress silver fabric for the Calypso beds.

In the basement the designer has designed a second living room with playroom area and movie. She wanted a wide modular to relax after a great day of skiing. So she turned to the Winslow model. She chose the same fabric as the Calypso bed in the adjoining guest bedroom that makes a nice reminder and keeps a balance to contemporary design. Fill with feather the sectional is perfect for this relaxation area.

To see other designer projects, click here to see the following article or visit our inspirational gallery where other designers from across North America have also decided to furnish their spaces with Jaymar furniture.