HOME THEATER ESSENTIALS : ARMCHAIRS
---
Discover our recommendations regarding the layout of your home theater room Here we are in our main field of expertise. For maximum comfort, our seats are designed to recreate those in cinemas. It's not for nothing that we collaborate with several cinemas throughout North America. Optima and Living are the most coveted collections for movie … Continued
---
Discover our recommendations regarding the layout of your home theater room
Here we are in our main field of expertise. For maximum comfort, our seats are designed to recreate those in cinemas. It's not for nothing that we collaborate with several cinemas throughout North America. Optima and Living are the most coveted collections for movie buffs. The armchairs from the Living collection are specifically designed for home cinema, while those from Optima are more suitable for the living room. The best of both worlds!
For the covering, leather is undoubtedly the preferred material. However, if your budget is more limited, our Alta collection fabrics are treated to make liquids bead up and give a more natural and organic style to your space.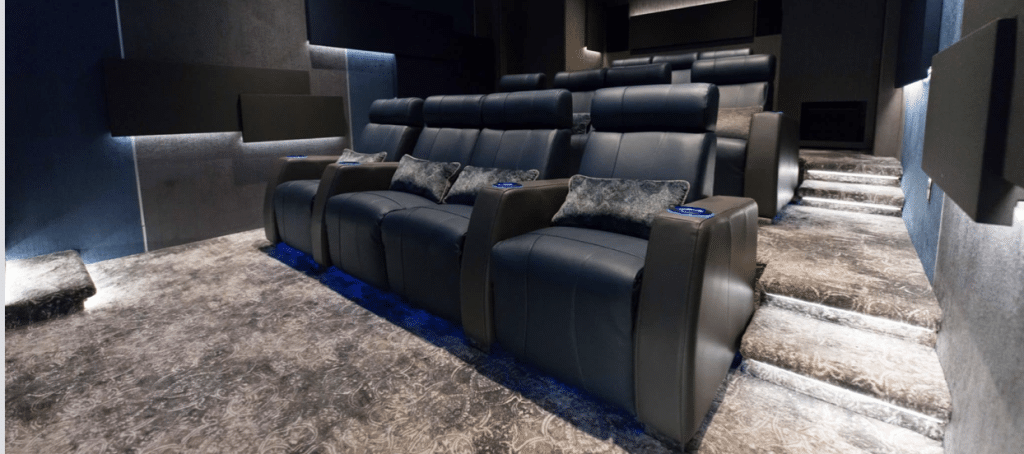 Living
If it is a room specifically designed for home cinema, the Living collection will fully satisfy you. With this collection, you can choose from 8 arms, 9 backs and 8 seats, not to mention the available accessories and covers, and thus create the configuration that suits you. Visit our 3D configurator to start your configuration.
The shape of the Living collection is distinctive and resembles the seats in a high-quality cinema room. The narrower arms give them a considerable advantage in saving space, especially if you want rows of seats.
For an even more immersive experience, it is possible to add the D-BOX option to any seat in the Living collection.
Optima
If it is your living room that you want to better equip to transform it into a home theater, we suggest selecting furniture from the Optima collection for its versatility. They are styled to be welcoming on a daily basis, being upholstered in fabric or leather, depending on your preference, and transforming into a home theater chair when you have a little movie craving. The power recline is a great addition. Another detail is the series of accessories available. A fixed cupholder can be added to the armrests. There is also the possibility of having an anchor that can accommodate a wine glass holder, a light, a shelf support or a rotating shelf to place a bowl of popcorn, for example. These accessories are not permanently attached. So you can have several and change them according to your needs. Our storage consoles are perfect for storing living room accessories while keeping the style of the armchair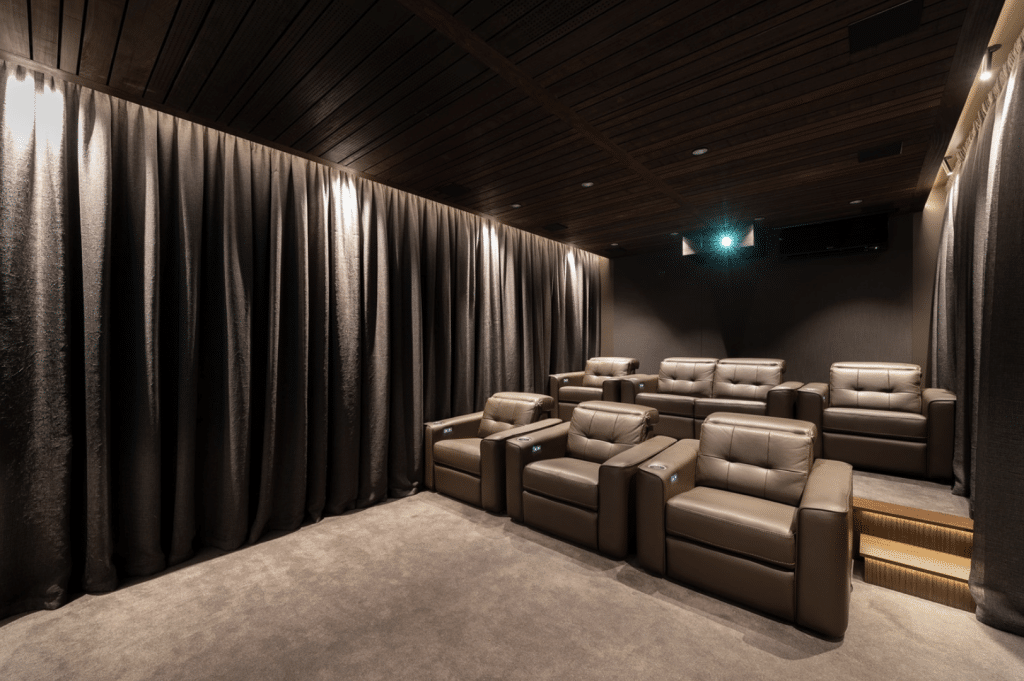 With more than ten models with different characteristics and all possible configurations, each piece of furniture is almost unique, especially if we consider the collection of leathers and fabrics that can be used. Once you've built the furniture of your dreams, all you have to do is sit back and relax. And this for several years.
The spacing
Regardless of the configuration or collection you choose, we strongly recommend having a minimum of 6.5 inches of distance between your furniture and the back wall, as well as 6 inches between the side walls. Even if our furniture has a "wall protection" mechanism that moves the backrest while it is lowered, we also think about the maintenance of your space.
If your space is not very wide, and you want each person to have their own seat, the center arms will allow you to gain precious inches to move around your room.

If you prefer to have individual chairs, especially if you equip them with D-BOX technology, keep a minimum distance of 4 inches because of the push buttons to activate the recline of the chair positioned outside the arm and the movements generated by D-BOX.

If you have a very deep room and opt for armchairs in several rows, it will be important to keep a minimum of 12 inches between each row when in the reclined position. The diagram below will be more explicit. Moreover, we suggest that the additional rows be raised. This way, you'll be less bothered by guests up front jumping during a horror movie or kids dancing to their favorite songs.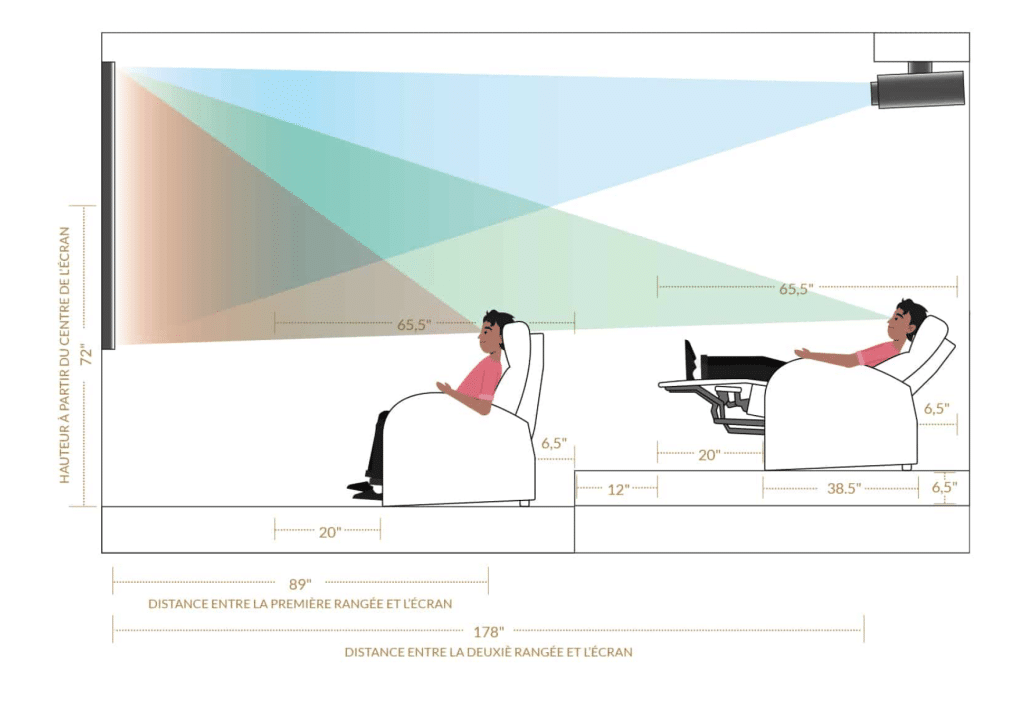 You can also consider an "amphitheater" style with a rounded configuration. Depending on the width of your space, attach the seats to each other using the angled center arms. Check that visibility is not compromised for those seated to the side.
D-BOX
It's great to watch a good movie with popcorn, but it's even better to live with D-BOX haptic technology! This will allow you to immerse yourself in the heart of the action of your film. You will feel a series of movements, vibrations and textures for a completely immersive experience.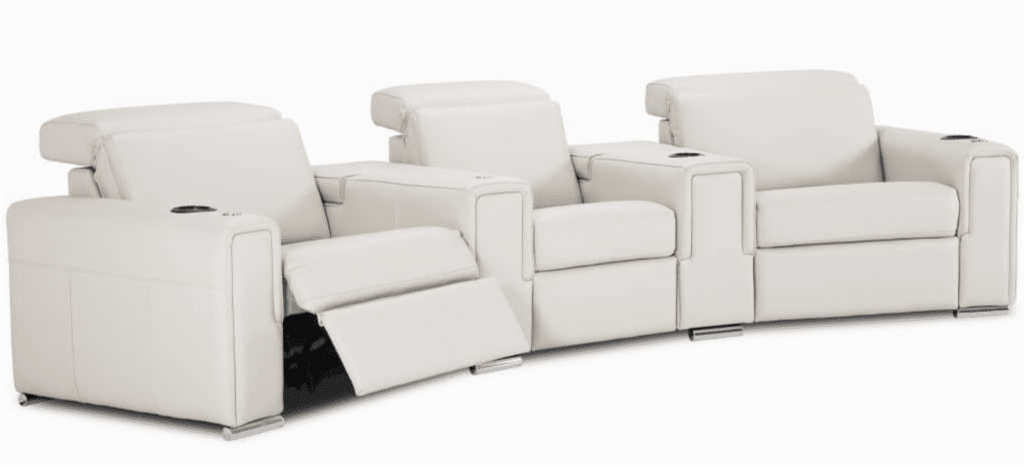 You should know that D-BOX technology is not just for films. From TV shows to music to video games, all your entertainment can be transformed if it's compatible. Thanks to this technology, your chairs react to the action on your screen by moving and vibrating. For more sensitive hearts, the intensity of movement is adjustable to allow a completely personalized experience. Even though a single Haptic Sync Hub can control up to 20 seats, each seat can be set to different intensities.
To convince you, our showroom has a home theater room with a few armchairs equipped with D-BOX technology.
Make an appointment so you can try them out and talk to our team about your project. Warning: You won't want to go back!
Learn more about D-BOX technology.