PRESTIGE IN THE HEART OF THE METROPOLIS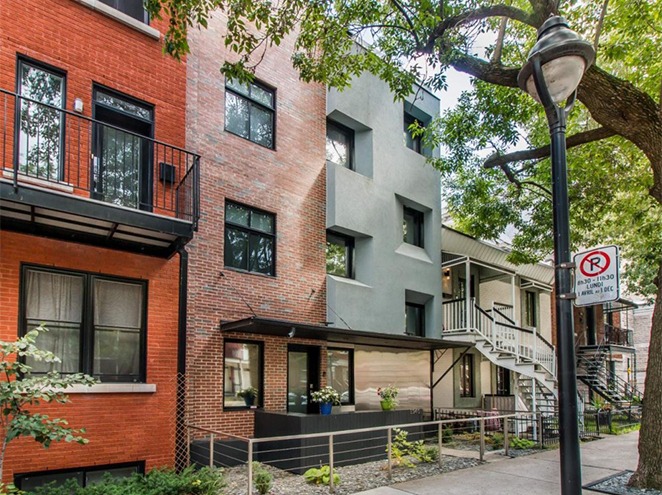 ---
Located in the district of Ville-Émard/ Côte Saint-Paul, this house perfectly highlights the various pieces of Jaymar furniture of its owner. Placed in the heart of an heterogeneous area, one quickly recognizes its eclectic influence in the choice of the various elements of decoration. In the living room, we put on the contrasts of different … Continued
---
Located in the district of Ville-Émard/ Côte Saint-Paul, this house perfectly highlights the various pieces of Jaymar furniture of its owner. Placed in the heart of an heterogeneous area, one quickly recognizes its eclectic influence in the choice of the various elements of decoration.

In the living room, we put on the contrasts of different materials and finishes, ranging from matt to gloss, through a rich amalgam of textures. The set is arranged in a neutral color scheme, with the exception of the red bar stools and the Jaymar purple armchair, placed near the TV stand. The Seattle sofa sits in the center of the seating area, in anthracite gray leather, reminiscent of stone on the wall. Adjustable heads allow clear view of open air while offering users uncompromising comfort. In addition, the use of ceilings using wood and metal beams helps to redirect attention to the impressive staircases leading up to the floors and the work exhibited there. The whole is embellished with aesthetic elements of different styles, from contemporary to modern, through the industrial style.
At the level of the bedrooms, the Neige bed placed in the center of the master bedroom evokes the presence and elegance of the Montreal home. Contemporary in style with classic touches, the furniture in shades of gray blends perfectly with the eclectic spirit of the house. At the level of the second bedroom, the Melanie bed brings a touch of traditional sweetness to the layout. The monochrome arrangement of pale fabrics creates a space of calm and tranquility, contrasting with the constant movements of the metropolis.