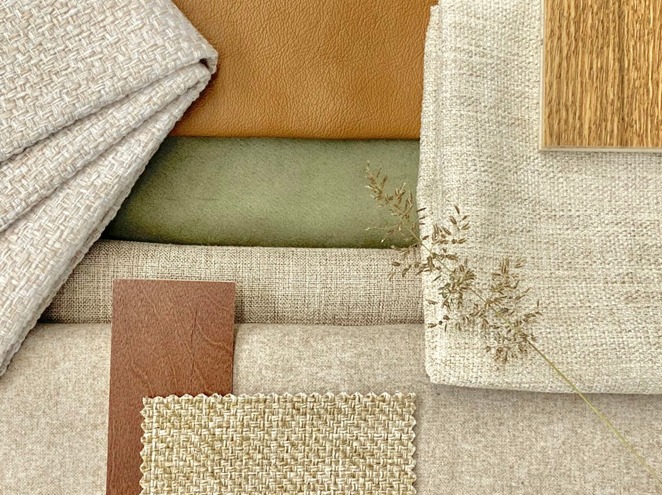 ---
Autumn is now here, and the cool weather suddenly makes us want to bring out our knit sweaters and throws to sit in front of a soothing fire. Like every year, the colorful season carries with it its share of renewal inspiration. With the cold and windy weather, it leads us to seek a dose … Continued
---
Autumn is now here, and the cool weather suddenly makes us want to bring out our knit sweaters and throws to sit in front of a soothing fire. Like every year, the colorful season carries with it its share of renewal inspiration. With the cold and windy weather, it leads us to seek a dose of comfort in our homes. With their pronounced textures and warm colors, the fabrics are put forward to create arrangements that are cozy and welcoming, in symbiosis with the falling leaves and the autumnal spices. We have put together 3 arrangements so that you can let yourself be inspired!
Layout 1
This arrangement with its natural tones, reminds us of the upcoming colorful season. Its light and neutral tones add a lot of texture to the ensemble, reminiscent of the mesh and materials of a thick woolen throw. The whole is enhanced by a simple and soft green fabric, adding an organic touch to the tan leather.
For recreate this style:
Chess Champagne gr.B
Leila Linen gr.A
Felton Oatmeal gr.B
Fulton Pearl gr.C
Irresistible olive gr.A
Yates Birch gr.B
Utah Mink gr.30
Wood leg Cognac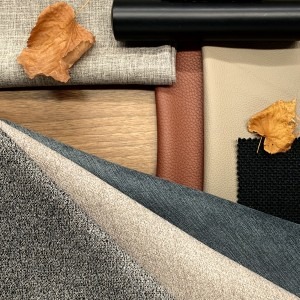 Layout 2
This combination of warm and cold tones reminds us of the contrast between the cool weather and autumn leaves. The cognac leather, which is similar in color to cinnamon, warms the neutral tones of linen-style weavings, accompanied by the bluish-colored fabrics. The rustic wood meanwhile, brings a chic touch with its pronounced veining and sophisticated color.
To recreate this style:
Illusion Cinnamon gr.30
Morton Sketch gr.C
Tiffany Beige Paesina gr.B
Penny Lane Caramel gr.A
Twill Effect Blue gr.C